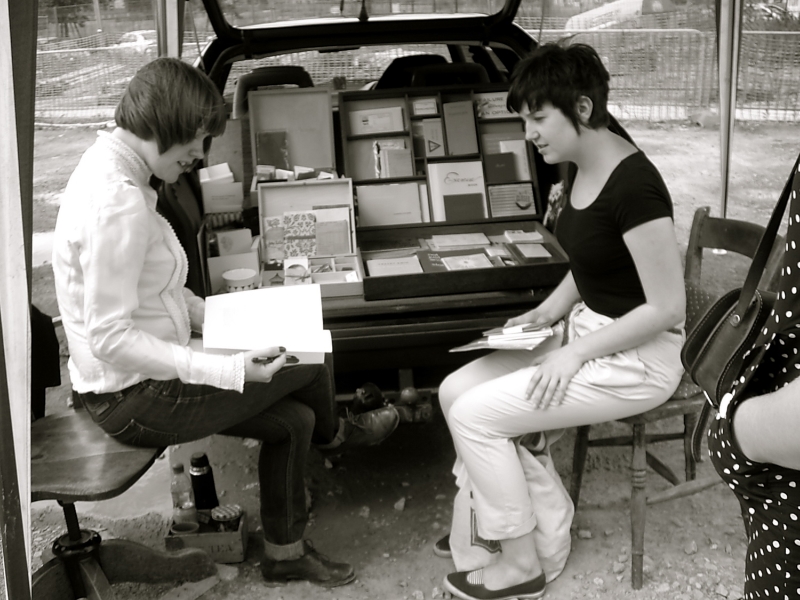 BABL
I am the curator the the Bibliotherapy Artists' Book Library (BABL), a touring mobile library home to over 200 artist-made publications from contemporary practitioners working with the form. This small library provides visitors with a space to express themselves honestly, in frankness and complete confidentiality and in return receive a personalised collection of artists' books to read on-site, selected in empathy and appropriation of their state of mind. All books are categorised by emotionally thematic content by the librarian, who has an extensive knowledge of the works in the library. No money is ever exchanged but occasionally visitors have felt the need to leave gifts such as freshly picked apples, drawings, phone numbers and chocolate. The library is a unique intervention, performance, public service combining my interest in literacy, art as therapy, the importance of emotional intelligence and a healthy curiosity of my fellow man.
Previous BABL sites have included:
The Art Car Boot Fair - Chips Building, Car Park, North Manchester, as part of a Manchester International Festival satellite event -July 2009.
Coastal Currents - Odd Antique shop, George Street, Hastings - September 2009.
Arts for Health Conference - Manchester Metropolitan University - October 2009.
Manchester Artist's Book Fair - Holden Gallery, Manchester - November 2009.
Reading for Readings Sake - Islington Mill, Salford - April 2010.
Wigan Words Literature Festival - Wigan Library - April 2010.The Art of the Book -
Blaydon Library, Newcastle - June 2010.
The Wellcome Trust Picnic - Cumberland Market, Camden, London - June 2010.
Hebden Bridge Arts Festival - Ex-routemaster bus, Yorkshire - July 2010.
Lunch time Bibliotherapy at Sweet & Maxwell, Mytholmroyd, Yorkshire - July 2010.
From A to B - Market Square, Dover, September 2010.
Place - St.Leonards Station, East Sussex - September 2010.
Place - Rock-a-nore Car Park, Hastings, East Sussex - September 2010.
Bookmarket - The Fruitmarket Gallery, Edinburgh - March 2011.
BABE Bristol Artist's Book Event - Arnolfini Gallery Dock, Bristol - April 2011.
Press & Release - Phoenix Gallery, Brighton - May 2013.
Baltic Artist's Book Fair - Baltic, Newcastle - May 2013.