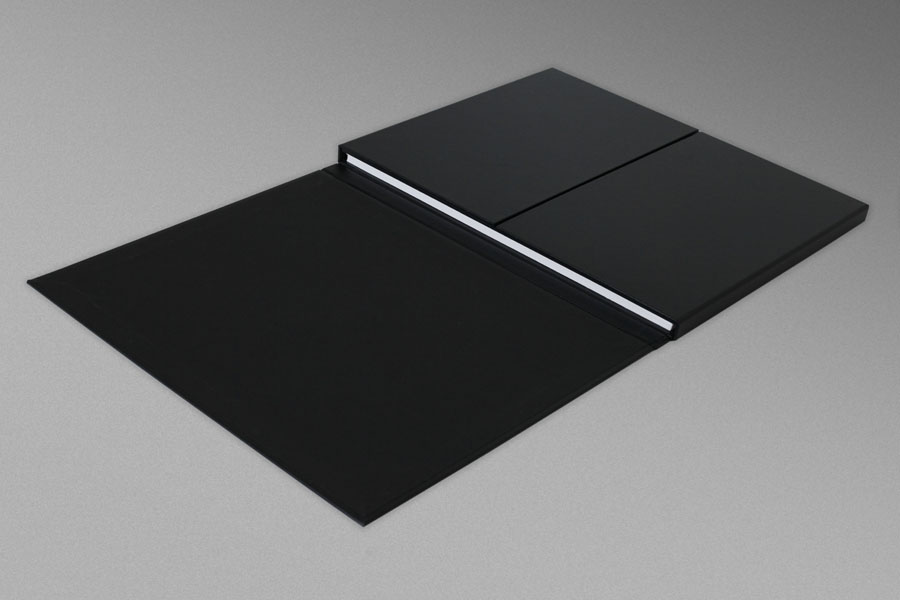 I often work on bespoke commissions in book and box making for clients. I have had the privilege of working with talented artists and academics on several special commissions. Collaborating on a design solution that works both functionally and conceptually inspires and satisfies me. Working most recently with Artist Mishka Henner on a presentation solution for 'Less Americans' resulted in an edition of bespoke hand built solander boxes, cloth covered and heat foil blocked. I was also commissioned for his photographic series 'Eighteen Pumpjacks', which were housed in a fold-out portfolio case.. Each one was handmade using dense millboard covered in Black Heritage library buckram, heat blocked in white matt foil with each foredge inlaid with 16 tiny magnets, achieving a hidden technique for closure.
I have worked closely in producing several hand bound edition for projects led by UHC, (Ultimate Holding Company) in Manchester for their highly successful 'Extinked' project and exhibiton, as well as 'A Public of Sorts' and 'Leeds Plan B'. I have also consulted on the ANATOMY Projects, 'Anatomy of an Institution' special edition book works. In 2011 having made an original bespoke clamshell box to accompany their exhibition of photographic prints, then followed a further project to hand bind and construct an edition of 5 books and boxes in more manageable dimensions than the first. In 2013 I went on to consult on the design and production of a new edition of newsprint versions of the same project. This was presented in a variety of metallic foil blocked covers on 6 different GFSmith Colourplan cards. Inner pages were litho-printed full colour onto high quality uncoated newsprint, held within their covers by a black rubber band. The work documents a visual collection of Manchester Metropolitan University staff past and present, all photographed with an authentic Victorian era camera discovered at the University. It is a numbered edition of 1000, designed by Graham Jones of Loose Collective and individually hand-finished.
To discuss bespoke commissions and private workshops please get in touch via the contact page.